---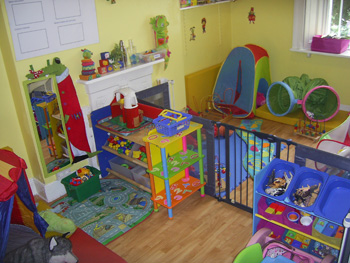 Testimonials
"Our daughter had her first experience of childcare outside the home at One of a Kind when she attended Montessori. We loved the small class size and the special attention from her really kind teacher and she had a wonderful start to her education."
Welcome to our Baby Room for Babies from 5 months to 20 months old
Availability
We offer full-time arrangement in each room


Staff
All our staff are fully qualified and experienced in childcare


Numbers
We care for a maximum of 4 babies in this room. This way children benefit of pleanty of 1-to-1 time and loads of cuddles too!


Routine
As every baby's needs and preferences are different, routine in this room differs from child to child as we try to maintain the routine babies have at home. During the day we make sure our babies:
Create a strong, affectionate bond with our staff
Get lots of affectionate love and care
Drink plenty of liquids
Enjoy their food
Get the sleep needed
Enjoy the company of their little friends
Development / Program and Curriculum
During this early stage we observe babies intently to make sure they meet their developmental milestones within a reasonable deadline.
During their time with us babies spend valuable time on the floor along with our staff as they enjoy the many age appropriate activities we plan and implement for them.